Volunteer Appreciation Week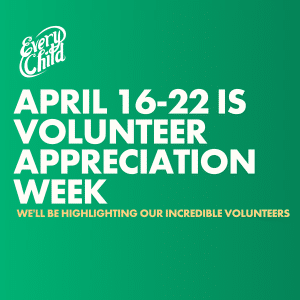 National Volunteer Appreciation Week is a special occasion that recognizes the selfless dedication and hard work of volunteers. Their contributions are invaluable in making a positive impact on the lives of those in need. Last year, Every Child affiliates in Oregon had the privilege of working with 2,341 volunteers, who have generously given their time and energy to support children and families impacted by foster care.
Throughout this week, we will be featuring some of the inspiring stories of our volunteers, highlighting their remarkable efforts and the difference they have made in the lives of others. These individuals have shown us that anyone can make a significant impact.
Looking for ways to get involved in your community? Every Child has a range of volunteer opportunities that cater to diverse interests and skills. Not everyone is in a place to become a foster parent, but everybody can do something! There are many ways to contribute. You can put together a welcome box or volunteer at a Foster Parents' Night Out event. These small acts of kindness can make a big difference in the lives of children and families in Oregon.
Let's take this week to express our gratitude to all the volunteers who have given their time and energy to support foster children and families. Their contributions are truly appreciated, and their stories inspire us to continue our efforts in creating a brighter future. And if you're not already involved, consider becoming a volunteer yourself and making a positive difference.